PTEE 2014
PTEE2014
8th International conference
Physics Teaching in Engineering Education
Challenges and solutions
Plugins and apps for effective teaching
22-24 May 2014 | Meliá Hotel, Aveiro, Portugal
  PTEE'2014 Proceedings available!
---
SCOPE OF THE CONFERENCE
The conference will consist of a set of workshops, each with one specific topic. The format of each workshop will be flexible depending on the topic.  There will be a short (max 30') introduction given by an expert, followed by some 10' short presentations by participants who have some practical experience with that specific topic. At the end of the workshop the expert orchestrates a discussion among participants. The last half day of the conference will be dedicated to the experts who structure the discussion results and present them in plenary session.
---
HOT TOPICS
Project-based learning
Activating students
 Selecting students and clickers
Great successes in lectures and labs
Video-analysis of motion
Misconceptions
Open themes
---
INVITATION TO CONTRIBUTE
We invite everybody involved in physics teaching for engineers to participate in this conference either with a paper or a poster presentation. Your contribution might address one or more of the proposed topics.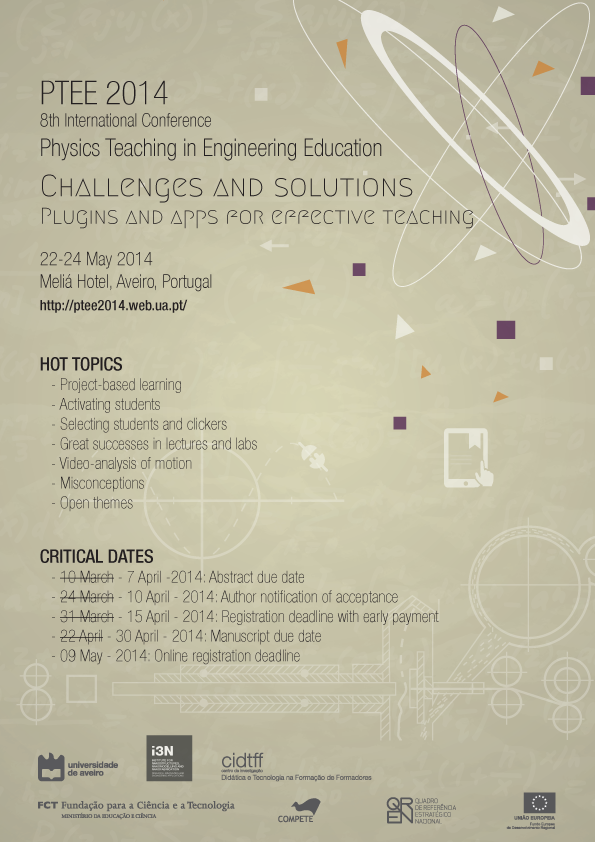 ---